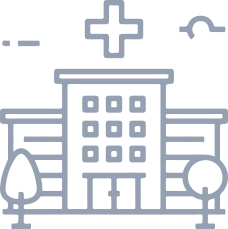 Why choose Barcelona International Hospitals?
Barcelona International Hospitals is the association of large hospitals and specialized centers of recognized prestige in Barcelona with a vocation of service to international patients. The aim of the association is to publicize the services offered by these hospitals internationally and to promote collaboration with institutions, governments and healthcare entities in other countries.
Barcelona International Hospitals is home to the international centers with the greatest hospital activity in the city and constitutes a nucleus with a degree of experience that is difficult to match thanks to the volume of patients it attends and its specialization.
Each year these hospitals treat more than 100,000 hospitalized patients and perform more than 60,000 surgical procedures.
More than 1 million patients pass through its outpatient clinics every year, and it attends nearly 300,000 emergencies per year. As a sign of their specialization, more than 600 transplants are performed each year in accredited hospitals.
International patient departments
The hospitals of our association have a specific department dedicated to attend international patients from the different countries they come from. These departments deal with requests for international assistance and clarify any doubts patients may have about the treatments offered.
Patients, relatives and collaborators who wish to be attended in our hospitals will find in these departments native professionals who will attend them in English, Russian, Arabic, Chinese, …, according to the origin of patients that each hospital has.
In the international patient departments, patients and their families will find solutions for transportation from the airport and accommodation in Barcelona, whether in hotels or apartments, and any information necessary to facilitate their stay in our city during medical treatment.
State-of-the-art medical equipment and technologies
The most prestigious European specialists work in Barcelona. Research achievements and pioneering techniques developed in Barcelona are making headlines in the international press. Thus, for example, Spain makes headlines every year as the leader in the number and success of organ transplants: In 2011, with 35.3 donors per million inhabitants and more than 4,200 transplants, the National Transplant Organization (ONT) was recognized as the benchmark for the entire world, having advised other countries such as Germany and France in the reorganization of their respective systems. In Spain, Catalonia is the territory where most transplants are performed.
Barcelona is home to world leaders in oncology, transplants, fetal medicine, minimally invasive surgery and highly complex surgeries in all age groups, etc. Doctors Eduard Gratacós, Josep Brugada, Antonio de Lacy, Ramón Cugat, Josep Tabernero, Jaume Mora, Susana Rives, Juan Carlos Garcia-Valdecasas or Humberto Villavicencio are just some of the world authorities in these disciplines practicing in Barcelona.
State-of-the-art medical equipment and technology in an exclusive and welcoming environment and with the best service for the international patient.
The state-of-the-art technology of the centers is combined with the highest level of comfort, warmth and excellent human treatment of the healthcare personnel, attentive to the needs of patients and their families from the great diversity of countries from which they come.
The new diagnostic imaging equipment makes it possible to fine-tune the diagnosis and the type of treatment to be performed in complex patients.
Precision medicine, especially in oncology, helps to personalize treatments for cancer patients by identifying the most appropriate therapeutic targets.
Investment in operating room technology such as intraoperative magnetic resonance imaging and augmented reality has made it possible to increase patient safety and shorten the duration of surgical procedures, ensuring better results.
The advent of 5G in information technologies favors the development of telemedicine in support of surgical treatments and remote patient monitoring, something unthinkable just a few years ago. Barcelona is a pioneer in the development of this technology as it has been the capital of the Mobile World Congress for years, a fact that has favored the birth of 5G technology companies that support cutting-edge medical care.
All this, together with the climate, the welcoming environment and the idyllic walks that the city offers, make Barcelona's hospitals the ideal place to entrust your health.
Specialization of the centers
The group of medical centers associated with Barcelona International Hospitals offers a wide range of specialties that treat patients with serious, life-threatening illnesses and others that undoubtedly improve the quality of life of individuals. All these centers show a long history of highly qualified and highly valued medical care in our country and internationally.
At Barcelona International Hospitals you can find centers that cover all highly complex specialties. General hospitals, such as Hospital Quirón Barcelona, Teknon Medical Center, Barnaclinic –which is part of Hospital Clínic i Universitari de Barcelona-, o el Dexeus University Hospital, which is a reference in gynecology, obstetrics and reproductive assistance. Also the SJD Barcelona Children's Hospital, a university hospital specialized in children and young people with minority and highly complex diseases, and university monographic centers such as the Institut Guttman focused on the treatment and neurorehabilitation of spinal cord injuries, brain injuries and other disabilities of neurological origin, and the Fundació Puigvertspecialized in kidney and urinary diseases, and andrology.
Part of Barcelona Medical Destination
The Barcelona International Hospitals association is part of the Barcelona Medical Destination program promoted by the Catalan Tourism Agency of the Generalitat de Catalunya to publicize and promote Barcelona as a hub of highly specialized health centers that offer excellent medical care to international patients.
This program unites the public interest of the Government of Catalonia and that of these centers in a highly qualified offer for people from other countries seeking medical treatments at an international level that are decisive and of the highest quality.
For more information about Barcelona Medical Destination
At Barcelona International Hospitals you will find the most prestigious hospitals in the city of Barcelona.
Send us an email with your questions and queries by clicking on the button.