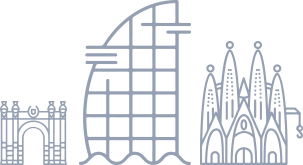 Barcelona, a pioneer in the digitalization of healthcare
For some time now there has been talk of the benefits that the Internet and new technologies have brought to areas such as healthcare. This digital transformation has certainly brought about a change in the way the healthcare sector operates. Thanks to it, medical clinics have reduced paperwork (medical records, invoices, prescriptions, etc.), freeing up space and being more environmentally friendly. The concept of telemedicine has been introduced and our patients can now make appointments and know the results of their various tests via their cell phones. Likewise, doctors can diagnose and even operate from miles away by seeing the patient through a screen.
In addition to the above, through digitalization, medical professionals from different hospitals and different specialties can now share information. In this way, diagnoses can be refined, resources optimized and costs reduced. In this way, the transversality of networking between professionals is achieved.
This large-scale data sharing has made it possible to analyze the figures using machine learning (ML) algorithms in order to detect the symptoms that enable us to evaluate and treat a person's health problems. The main function of data science is prevention, thanks to which we have been able to explore little-known genetic diseases and also create specific drugs for very specific pathologies.
Today, thanks to the Internet, we can find medical databases created and maintained, for the most part, by research centers, universities and public organizations. These Medical Databases are an essential tool for any medical professional, since, through open or paid access, they provide valuable information on studies and research already carried out.
Barcelona and Catalonia, leaders in the digital transformation of the healthcare sector
Since 2006, Barcelona has been the capital of the Mobile World Congress, making it a forerunner in the development of telecommunications and, currently, of 5G technology. This has favored the healthcare sector with the proliferation of new healthcare start-ups and giving rise to entities such as the Barcelona Health Hub, which aims to connect start-ups, professionals, institutions, investors and large corporations to accelerate the digital transformation of healthcare. Another example is the Healthcare Innovation Challenge organized by CataloniaBio, which represents more than 200 agents in the biomedical and healthcare sector in Catalonia.
On the other hand, the Generalitat de Catalunya has given life to the Program of data analytics for research and innovation in health (PADRIS). It has done so with the aim of promoting research, innovation and evaluation in health through access to the reuse and cross-referencing of health data generated by the integrated health system for public use in Catalonia (SISCAT).
Barcelona International Hospitals (BIH)
The Barcelona International Hospitals group always works under the same premise: the patient's wellbeing and health come first. This postulate is based on prevention:
The sharing of knowledge, both among the seven hospitals that form it and with other national and international hospitals.
The use of the latest technological advances in the healthcare field.
The constant training of our medical and nursing staff.
These factors would not be possible without the existence of the Internet and new technologies. It is thanks to them and to the expertise of our professionals that we can concentrate in a single location the most advanced treatments in all medical specialties.
An institution that has been a leader in neurorehabilitation and brain health for more than half a century. It stands out for the use of neurotechnology in rehabilitation, which includes robotics in rehabilitation, exoskeletons, non-invasive brain stimulation, virtual reality, neural interfaces and monitoring.
The Institut Guttmann has also created the Barcelona Brain Health Initiative (BBHI), focused on brain health, and the online cognitive telerehabilitation platform Guttmann NeuroPersonalTrainer®.
Quirónsalud Hospital Group
Company dedicated to the provision of healthcare services with more than 60 years of experience. Composed of 58 hospitals throughout the country, among which we highlight:
Teknon Medical Center
An institution focused on the improvement and innovation of treatments for those diseases that require new drugs and techniques, and on early access to the most innovative treatments. For this reason, Centro Medico Teknon has more than 50 active trials, 21 observational trials and 2 service delivery trials underway.
Hospital Universitari Dexeus
One of the largest private hospitals in Europe and a reference in the specialties of gynecology, obstetrics and reproductive medicine.
It has been attached to the Autonomous University of Barcelona (UAB) since 1989, and has been accredited as a Hospital Teaching Center by the Ministry of Health for Specialized Health Training (FSE) via MIR since 1978.
Quirónsalud Barcelona Hospital
A hospital center that stands out for its use of the latest technological advances, such as PET-CT or genetic and molecular diagnosis; and therapies such as robotic surgery with the Da Vinci surgical system, neuronavigation, intracranial stereotactic surgery (SRT), body radiation therapy (SBRT), percutaneous ablation of tumors by radiofrequency, among many others.
All of them offer through Quirónsalud Connect digital health services focused on immediate telephone consultation, vital signs measurement through the My Quirónsalud app, Symptom Evaluator thanks to its artificial intelligence system and Chat by specialties.
The Hospital Clínic Group is made up of the Hospital Clinic de Barcelona in association with the University of Barcelona, the Institut d'investigacions Biomèdiques August Pi i Sunyer, the Fundació Clínic and barnaclínic+, in addition to other associated entities.
A global medical center dedicated to treating all types of pathologies, especially those of high complexity. It has professionals who are experts in the use of high-tech equipment that allows minimally invasive procedures and highly complex surgeries. It is also a member of the Barcelona Health Hub.
Member of the Barcelona Health Hub and one of the leading university hospitals in Europe for childhood and adolescence, as well as for maternity and fetal medicine.
It has, since 2015, the Institut de Recerca Sant Joan de Déu (IRSJD). It is a biomedicine research center formed by groups from two university hospitals, Hospital Sant Joan de Déu Barcelona and Parc Sanitari Sant Joan de Déu, and three research institutes, the Institut de Biomedicina (IBUB) and the Institut de Neurociències (UBneuro) of the Universitat de Barcelona, and the Centre de Recerca en Enginyeria Biomèdica (CREB) of the Universitat Politècnica de Catalunya.
Currently, three IRSJD researchers lead three innovation networks co-financed by the European Union through the European Regional Development Fund (ERDF): i4KIDS, Pediatric Innovation Hub; XARXA TECSAM, Innovation Network for New Technologies in Mental Health; and Xartec Salut.
Health entity specialized in Urology, Nephrology, Andrology and Reproductive Medicine, leader in the application of medical digital coding. As well as, the first center in Spain to acquire and implement, 15 years ago, the Da Vinci Robot. Positioning itself, thus, at the forefront of robotic surgery.
In addition, in 2022 it inaugurated a new Advanced Dialysis Unit equipped with the latest technology to ensure comprehensive patient care and establish predictive models for the evolution of kidney disease.
At Barcelona International Hospitals you will find the most prestigious hospitals in the city of Barcelona.
Send us an email with your questions and queries by clicking on the button.